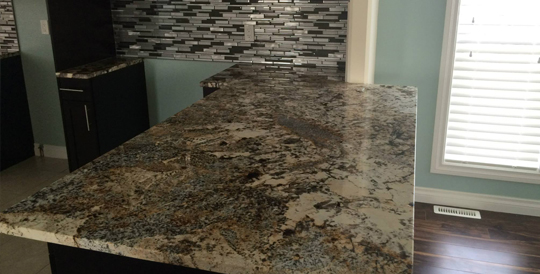 CUSTOM

STONE COUNTERTOPS IN GRANDE PRAIRIE AND SURROUNDING AREAS
Transform your drab kitchen into a beautiful centrepiece for your home with a custom stone countertop. At Stone Art Kitchen & Cabinets, we work with home owners and builders throughout the Grande Prairie area to design and install custom countertops made from a variety of beautiful and durable materials.
Granite
When you are looking for a material that has a timeless look and visual appeal, it is hard to beat granite. The rich beauty of natural granite countertops has made the material the first choice for homeowners looking to remodel their countertops. We can use quality granite to transform your countertops into the centrepiece of your kitchen and visually bring your space to the next level.
Marble
The classic appearance and elegance of marble has ensured that marble remains very popular with homeowners planning a remodel. You can choose between solid black and white slabs, and a variety of other colours including gray, yellow, green, rose and more ensuring that no two slabs are identical. If you are looking to make your space stand out with a high level of beauty, it's hard to do better than classic marble.
Quartz
Quartz countertops use a type of engineered material, made from quartz, mice and feldspar, to create surfaces that are beautiful and durable. They are both crack and stain resistant and the fact that it is smooth and non-porous means that it is hard for harmful bacteria to find a home and grow. Quartz countertops are versatile, and can be used in kitchens and bathrooms with equal quality results.
Onyx
For home and business owners looking for to bring a modern and sleek look into their space, onyx have quickly become a popular choice. The minerals are formed in a cave, and this unique formation process means that there are not an abundance of onyx countertops. The dazzling colour patterns will give any countertop a premium surface that stands out and demands attention.
Quartzite
Quartzite is a mineral that occurs naturally when sandstone is subjected to heavy pressure and extreme heat. The slabs that are formed are then cut, polished and sealed to make countertops that look very appealing and have a high level of durability.